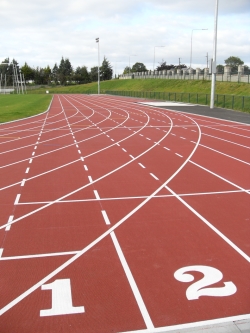 Athletic Tracks
There are currently three main types of Synthetic Track Surface in use.
A solid PU track that is resistant to water.
Sandwich systems incorporating a solid PU surface over a porous base.
A porous PU track which allows water to pass through
What type of surface required will depend on the primary use of the facility and the available budget.
For a major national or international track meeting a solid system will usually be specified, if the budget will not stretch to this then the Sandwich System can be an acceptable alternative.
For Athletic clubs, Schools and Colleges the Porous System is available at a fraction of the cost
Full Pour System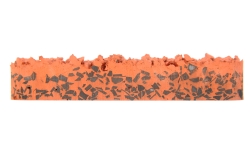 13mm Olympic standard track system in multiple layers.
The full pour system is a high performance system that is designed to meet the highest standards of international competition.
Installed to IAAF regulations, this system is installed by casting in place a layer of EPDM rubber granule mixed with a polyurethane binder, this method is then repeated and finished with a further top coat of coloured EPDM granules which are cast into the polyurethane compound.
Sandwich System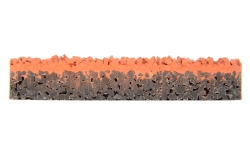 High Usage two layer product consisting of a 10mm base and 3mm EPDM layer.
The sandwich system offers good force reduction and is installed as a rubber crumb base mat topped with a clear polyurethane binder. The base layer is sealed with a thiner mixture of EPDM granules and polyurethane and a final top coat of coloured EPDM granules is cast onto a flood coat of the polyurethane compound.
Spray Coat System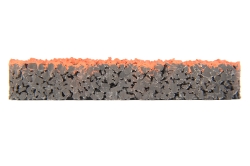 For Low to medium use applications 12mm base and 3mm textured spray coat.
This is the most popular synthetic track system and is ideal for Schools, regional tracks and athletic training facilities. It provides excellent energy reduction and is very durable. This economical system provides a very cost effective solution, applied as a spray consisting of a polyurethane compound and fine EPDM granules, sprayed onto a base mat of rubber crumb and clear polyurethane binder, with a final textured spray top surface