Multi Use Games Areas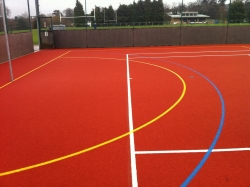 Multi Use Games Areas (MUGA's) have become increasingly popular with local authorities, schools and colleges over the years.
For schools that require a combination of their curriculum sports and 'play time' in the one multi functional area, then a MUGA due to the cost effective nature of construction, surface versatility combined with relatively low maintenance is the sound choice.
A MGUA offers a greater value than tennis courts as they are suitable for netball, basketball, 5-a-side football, volleyball and tennis, and due to their flexibility can provide an additional income from local sports clubs.
MUGA can be resurfaced when required.